If you only know one word in Japanese, there's a good chance it's kawaii. A seemingly simple word that belies a treasure trove of emotions, kawaii can mean anything from an off-handed cute I gotta have this! You'll find items adored with bubbly characters,dainty flowers, adorable feline creatures.
Are you looking for kawaii school supplies that can inspire you to study or work harder?Here is the 10 Cutest Kawaii Must-have School Supplies Bucketlist in 2023! Browse cute notebooks, school bags, pencil cases, pens, memo notes, markers and more!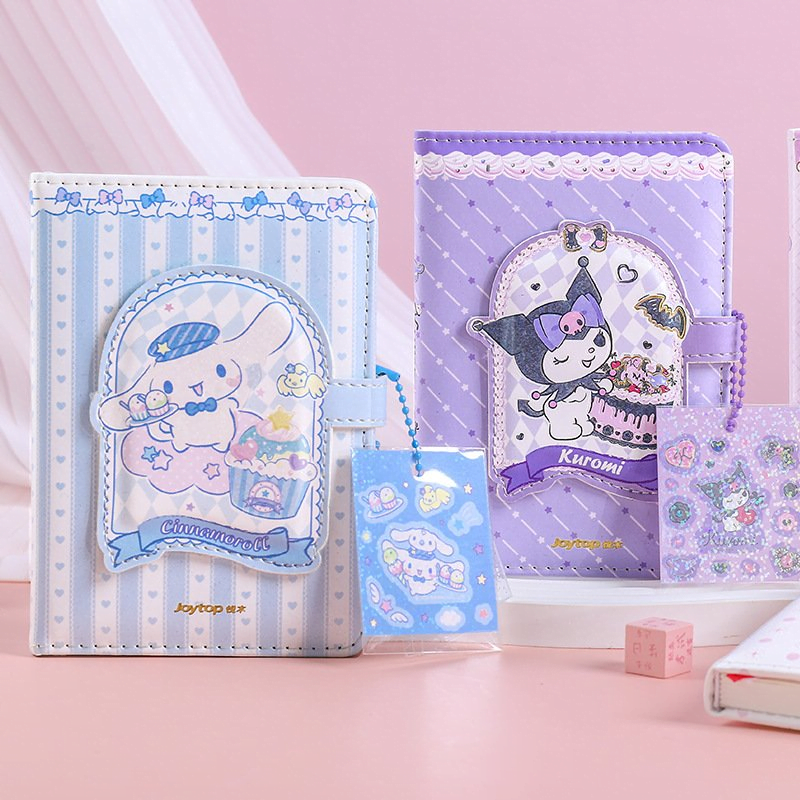 The Kawaii Cute pastel journal diary has adorable designs of popular Sanrio characters: Cinnamoroll, My Melody ,and Kuromi. It's one of the cutest notebooks on our list.
It comes in three various colors, and it has a kawaii and aesthetic design that's perfect for girls and teens!
You can use this cute journal diary for school and homework and even for writing stories, and it's also easy to carry around!
It also has a convenient magnetic buckle design which is easy to open and close and keeps the pages securely in place. 😊
The diary comes with a two color ribbon bookmark to help you mark your place or quickly find a specific page too!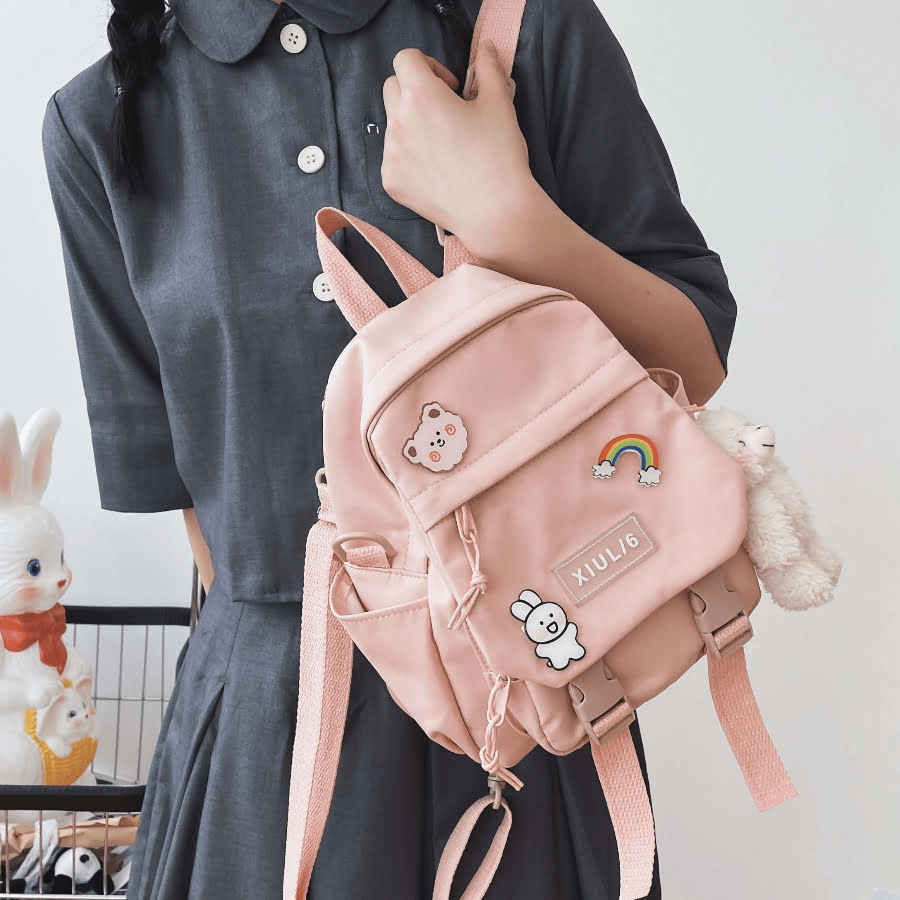 The Kawaii Canvas Korea Style Shoulder Backpack features a really nice Korean-inspired design that looks super cute!
This backpack, with four vibrant colors – black, blue, green, and pink can match any outfit or mood with its various colorful designs.
This backpack has many compartments where you can store your books, wallet and phones. It also has two additional side pockets for extra storage space.
The soft handle also makes it easy to carry, while the preppy style adds a touch of sophistication to your look.
The solid pattern type gives it a classic,timeless appeal,making it suitable for any occasion!
This kawaii Multi-Functional Pen Holder keep your desk organizedand cute!
Not only is it perfect for holding pens, pencils, but also for other office supplies.
This box comes with two compartments which make it super easy to organize your stationery, erasers, and even comes with a set of stickers for you to decorate the stationery box.
This is one of the cutest desk set up ideas!
If you are looking for a really aesthetic addition to your studyroom, be sure to check out this kawaii jumbo pen holder box.
This Kawaii Cartoon Index Sticky Tabs add a variety of interesting colors that might you loved!
The cover of the set and the sticky notes inside are designed with premium paper with soft surface, this cute and bright in pastel color. And this set of sticky notes with perfect size, which is easy to carry and fit in your bag.
It is ideal for students, teachers, office workers, or anyone who wants to stay organized in a fun and playful way!
These novelty pens feature a cute bear in brown color, all designed to look like cute Japanese pens!
This adorable pen features a cute bear design with 10 different ink colors, including black, blue, red, green, pink, purple, orange, light blue, brown, and dark green. With so many colors to choose from, you can add a fun and playful touch to your notes, doodles, or journals.
Keep all hands busy, tackle problems and let them write, squeeze, and you'll love it!
The Kawaii highlighters are a great addition to any stationery collection! These highlighters come in six mild colors in every box, and are sure to make your notes, and planner pages pop.
Each highlighter features brush tips that glides smoothly across paper, making it easy to create bold and precise lines. Whether you're highlighting key points in a document or adding a pop of color to your bullet journal, these highlighters are up to the task.
This will great student for on the go note taking studying sessions!
The Kawaii Hello Kitty Pencil Case is a fun accessory for students and working adults alike!
This pencil case is made from high-quality material, making it durable and stylish. The pencil case features as soft and plus texture, making it comfortable to hold and easy to use.
It has plenty of stores to put things like erasers and pens. It will make your things look clean and organized.
Make sure to check out this stylish durable pencil case!
The kawaii ice cream easer will make a delightful addition to any stationery set!
These are made from high-quality rubber designed to effectively remove graphite and ink from paper with ease.
These erasers are visually appealing and easy to use. It is shaped like an ice cream from bright strawberry to ube texture.
Make sure to check this cute ice cream style little eraser!
This cat paw dual tip correction is adorable and practical for your daily school! The correction tape is designed in the shape of cat paw.
It adds bright color to a touch fun to your work or school routine.
This is used to simply glide the tape over any mistakes to cover them up, and you are left with a clean and neat surface.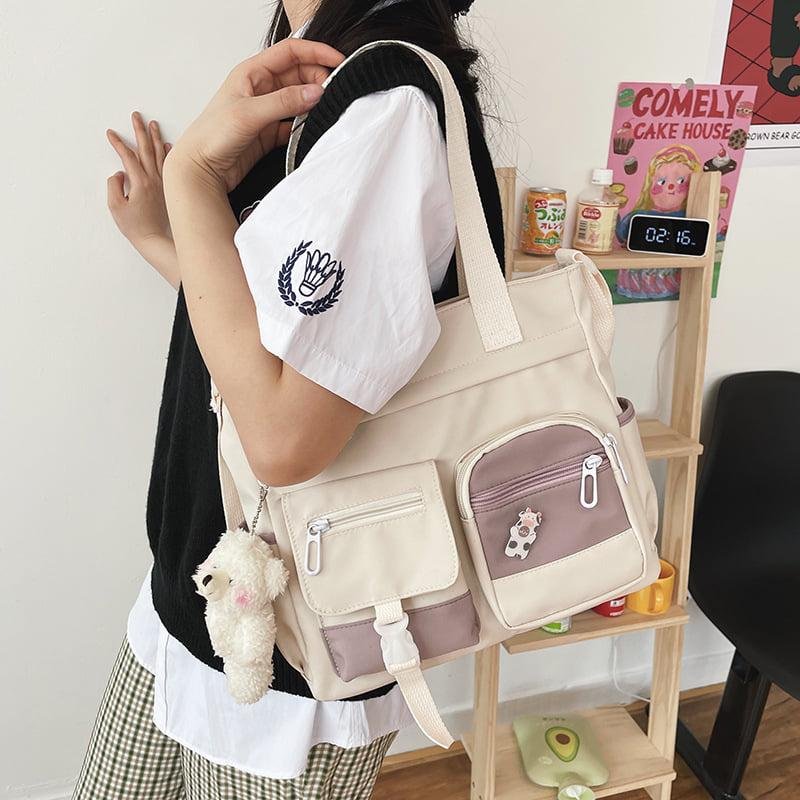 The Kawaii Japanese Canvas Shoulder Bag is an ideal accessory for anyone who wants to add a touch of Japanese culture to their wardrobe!
Available in four pastel colors: blue,black, white and pink.
The bag has a soft texture that provides a comfortable and lightweight feel, making it easy to carry around for extended periods.
You can use it at school or any occasion. This will be added to your look for the lovely colors that might be perfect for any outfit.
In conclusion, these 10 kawaii must-have school supplies are not only adorable but also practical for your everyday needs!
Whether you're a student, teacher, or just someone who loves cute stationery, these items will surely brighten up your day and make studying or working more fun.
From the colorful and stylish pencil cases to the adorable animal-shaped memo notes, these school supplies will make you feel more organized and motivated to learn!
So why not add them to your bucket list for 2023 and make your school or work life a little bit cuter? Click the link to shop now🛒!!